Tamale Pie Au Chocolat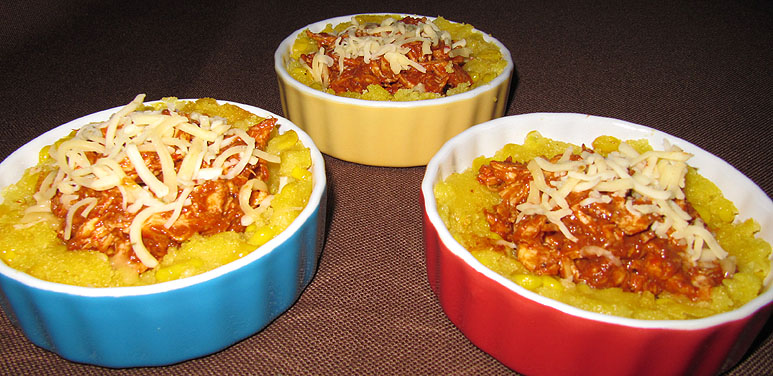 Several weeks a go, while watching the delightful old movie, "Chocolat," I conjured a recipe that continued to percolate in my head. For those, who have seen this flick, you will remember Vianne was an expert chocolatier. She revealed the Mayans often mixed chili with chocolate, which I found intriguing.

For my recipe, I had the desired ingredients treasured away in my pantry. I call it Chicken Tamale Pie Au Chocolat.
For those of you who enjoy Mexican Sweet Corn Cake, and Chocolate Mole' this recipe may be up your alley. It's worth a try in any case.

I use individual size tart remekins to make them in. You can make them a day ahead, like I did this morning. I'm feeding a family gathering tomorrow evening.


INGREDIENTS:
For the Chicken Filling:
3 Chicken Breasts – Baked/Roasted, stripped from bones into tidbits
1 Chicken Taco Seasoning packet 1 oz size.
For the Sauce:

1 Bottle Mild Taco Sauce – 15oz size
2 Milk Chocolate Hershey Bars – 1.55 oz size
3 Tablespoons Ground Cinnamon
For the Sweet Corn Cake you will need:

1 pkg Sweet Corn Cake Mix (pictured on the left)
½ cup butter or margarine
1 15oz can cream corn

*You will also need Shredded Cojita Cheese to sprinkle on top of the pies after they are completely assembled.

DIRECTIONS:

Oven-bake or roast the Chicken Breasts for 1 hour 45 minutes at 375° (I use fresh bone-in). Once cooled, strip meat from bone into tidbit sized pieces. Add the Taco Seasoning mix. You may wish to use a little less than the entire packet to suit your taste.

Make the Sweet Corn Cake per the instructions on the packet.

While the cake is baking, put a large saucepan on the stove. Add the bottle of Mild Taco Sauce, Chocolate bars, and Cinnamon. Blend together over low heat.

Combine the Chicken with the Sauce, set aside.

When the Sweet Corn Cake comes out of the oven, use an spoon to scoop it into the remekins. Gently shape the cake into a small pie shell. Sweet Corn cake is malleable, unlike regular cake. Scoop in the Chicken and Sauce mixture, and top with shredded Cotija Cheese.

[Note from Myrl]: You can assemble and eat while still warm. Or, you can refrigerate, and pop in the microwave for 2 ½ minutes each later.